Cash Saver
Recipes
https://www.cashsaverfoods.com/Recipes/Detail/7902/Mummy_Meatballs_on_a_Stick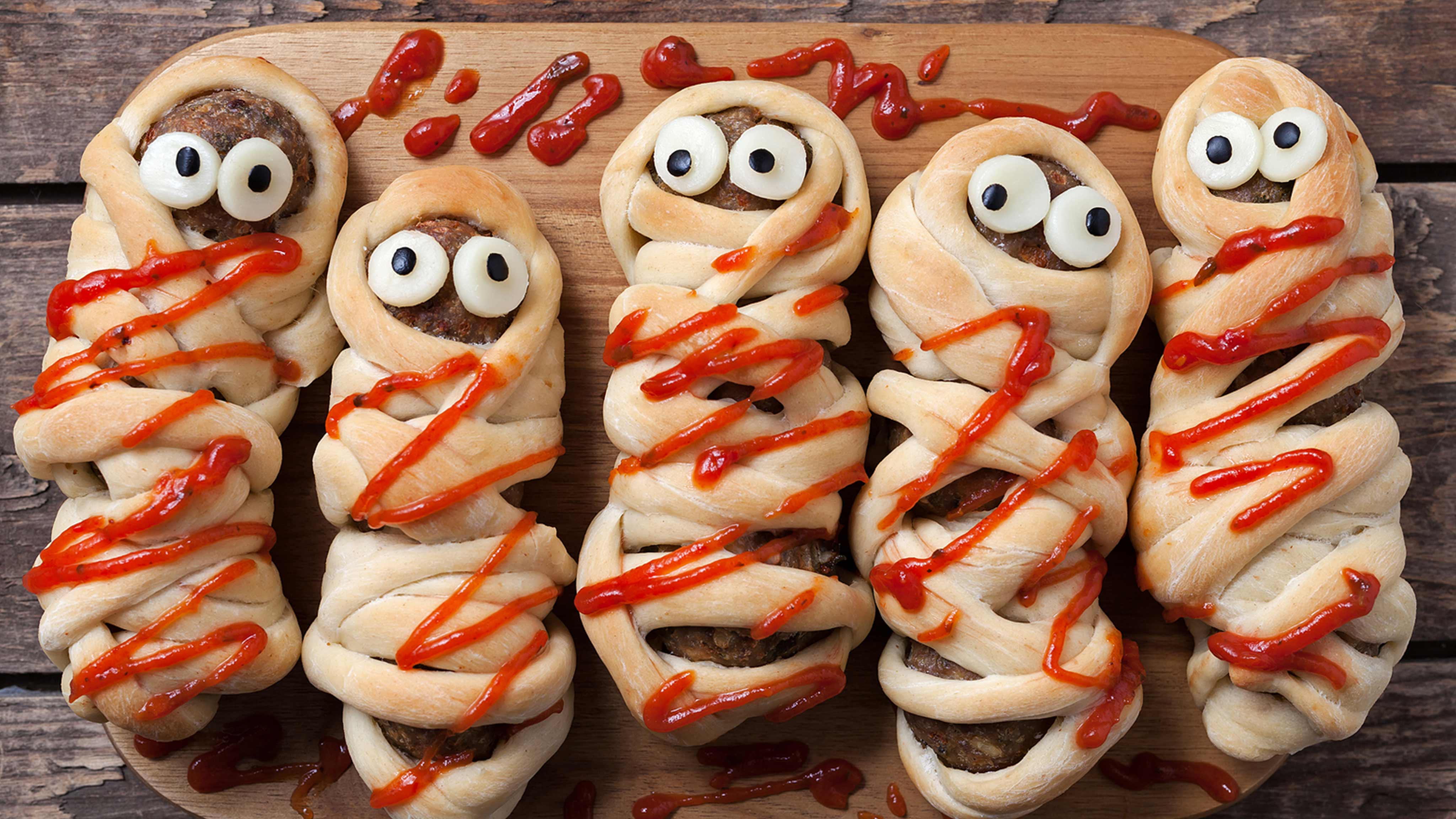 Mummy Meatballs on a Stick
Yield: 6 servings
Ingredients
1
package

refrigerated pizza dough

18

cooked meatballs (homemade OR frozen and defrosted)

6

wooden skewers OR wooden craft sticks

1
Tablespoon

melted butter, if desired

Edible Eyeballs:

1
strand

string cheese

1
can

chopped black olives

Dipping Sauce:

Pasta sauce

Barbecue sauce

Ketchup

Mustard
Directions:
Preheat oven to 350 degrees F

Line a baking sheet with parchment paper.

Cut the pizza dough into 1/4 inch wide strips.

Thread 3 cooked meatballs onto each skewer to hold meatballs in place.

Wrap and criss cross the strips of dough around the meatballs leaving a small portion of the meatball exposed at the top end where the eyes will be placed.

Place mummy meatballs on the baking sheet and bake for 18 to 22 minutes until golden brown.

Remove from oven and brush with melted butter if desired. Place a set of eyes* onto each mummies face.

Drizzle with ketchup or barbecue sauce to look even more scary.

Serve hot and dip into your choice of pasta sauce, barbecue sauce, ketchup or mustard.

*Edible eyeballs:
While the mummies are baking create 6 pairs of eyes. Slice string cheese into 1/8 inch thick circles. Place a piece of chopped olive onto each circle of string cheese. Set aside until the mummies come out of the oven then add the eyes to each mummies face.

Please note that some ingredients and brands may not be available in every store.
Cash Saver
Recipes
https://www.cashsaverfoods.com/Recipes/Detail/7902/